WELCOME TO THE REVOLUTION
Faction Wheelset
Build Your Revolution Wheelset
Faction - Trail/XC Wheelset
A scalpel for your trail bike.
The best thing about trail bikes is how lightweight and playful they are, so the obvious thing to do is pair it with a set of lightweight carbon wheels. Enter the Faction- our most agile, highly accurate rim. With strength that punches well above it's class, these 27mm internal width rims make your cross country/trail bike come alive.
Available in 29er Diameter Only
---
FACTION SPECS
HOLE COUNT
Front: 32
Rear: 32

RIM WIDTH
27mm

RIM DEPTH
21mm

SPOKES
Sapim Race – Black


NIPPLES
Sapim Polyax – Black

RECOMMENDED TIRE SIZE
2.1-2.5


RIM WEIGHT
425g per rim

ERD
600mm 2mm offset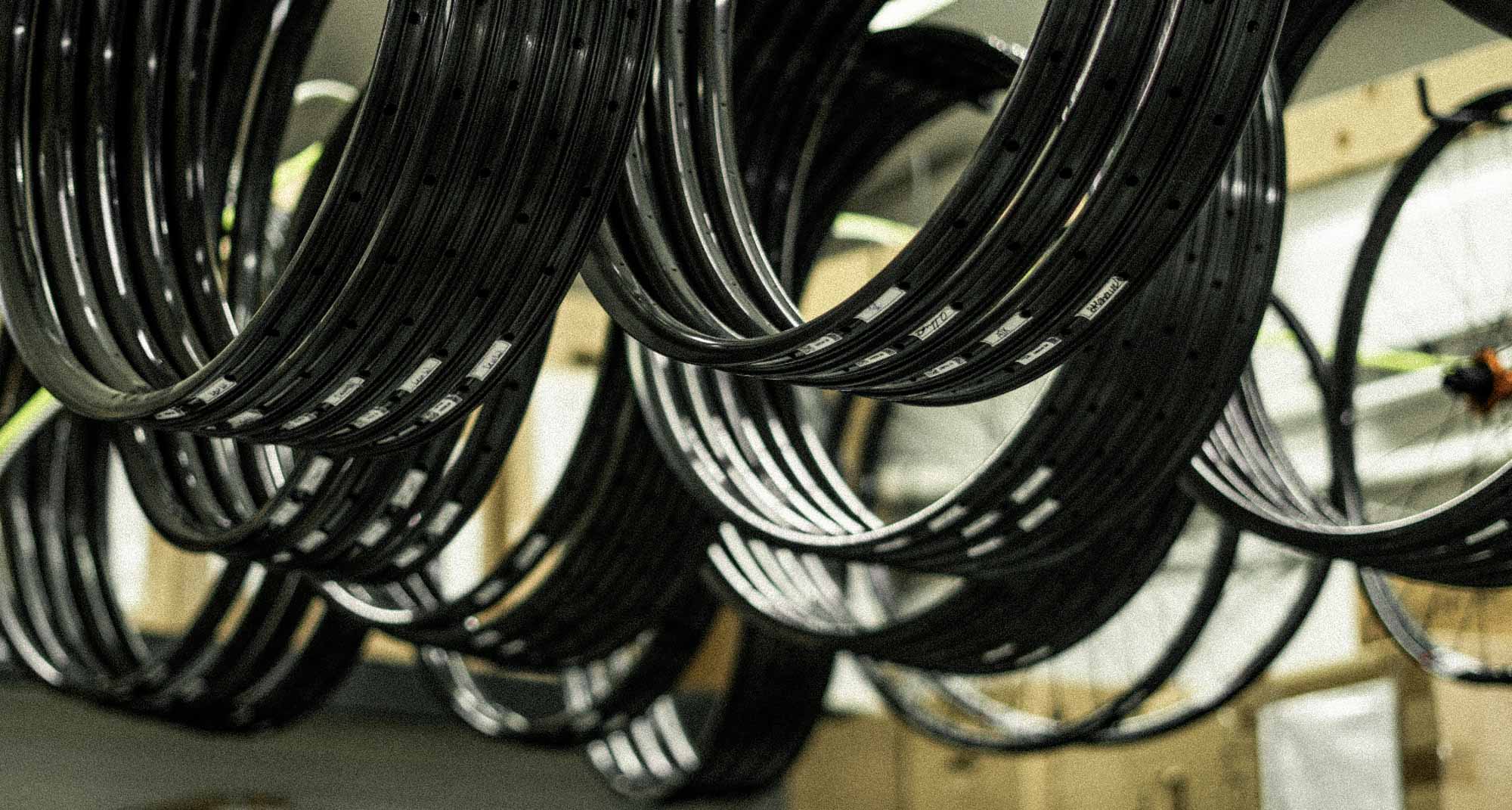 DON'T TAKE OUR WORD FOR IT
THESE ARE SOME TOUGH RIMS
"What sets We Are One apart from the crowd is the impressive quality of the rim and the attention to detail that goes into the wheel build itself. The result is a tough and reliable wheelset that should last for season after season of hard use."
~ Mike Kazimer, Pinkbike
WE ARE COMMITTED
QUALITY OVER QUANTITY
Here at We Are One Composites, we take great pride in the craftsmanship that goes into all of our products.  All of the laminate staff put their names on each product to show that they are pouring their passion into the product you receive. It is a sign of pride that we demand quality before quantity.
WE ARE CONFIDENT
LIFETIME WARRANTY
If you break a rim while riding, we will send you a new one. Period. It is that simple. No rim replacement cost (except for shipping), no hidden fine print and we offer lifetime support.  
WE ARE LOCAL
HAND LAID IN KAMLOOPS BC
Our mission is to connect our customers to where their products come from and how they are made. From design to assembly and all the steps in-between, we have complete control. Owning all of our processes allows us to set tighter tolerances, set and hit our quality standards, and ensure that the product is consistent.
Revolution Carbon Rims
Build Your Own
Rim-only options available. Build your own wheels with any of our Revolution Rims.
Shop Rim-Only
For us, tubeless is the way to go! So yes, all of our wheels are shipped tubeless ready with tape and valves already installed. All you need to do is put on a tire and add sealant before hitting the trails!
29" is 2x and 27.5" is 3x. We find with the We Are One rims these lacing patterns tend to give you the best ride quality out of our product!

CX-Rays are a great weight saving tool for your wheelset, saving approximately 100 grams per wheelset (depending on your rim and hub configuration). The spokes also provide the same ride characteristics as our standard Race spokes.

We are doing our best to get you out on the trails enjoying We Are One products as soon as we possibly can. With that being said, all wheels are made to order and lead times will vary depending on what and when you order. Typical lead times are between 2-4 weeks.
Potentially, it depends on where your order is in the queue. If your wheels are already built then unfortunately, we are unable to make any further changes.
Once your order has passed all quality checks and is packaged up, we will send you the courier tracking number.
Depending on where you are located you can expect different shipping times.

- Within Western Canada you can expect anywhere from 2-4 days.
- Within Eastern Canada you can expect anywhere from 5-7 days.
- Within United States you can expect 2-4 days.
- International shipments are anywhere from 5-15 business days.
If you are in Kamloops and able to pick your order up, that works for us! Our office is open Monday - Friday, 9 am - 4 pm. Just send us an email to info@weareone.bike with Sale Order # and we can make sure that we have your order ready for a pick-up.
We would hate to see you cancel an order but, yes you can. That being said since all orders are manufactured to order there is a 15% restocking fee for orders, after a 2 business day grace period. 
This is dependent on your location. Within Canada, you are responsible for your provincial taxes. In the United States, you should not experience any additional taxation as it is built into your price. For International orders, you will be responsible for paying any duty and import taxes for your We Are One shipment.

Unfortunately, as all of our products are manufactured to order we do not offer returns on any of our products.